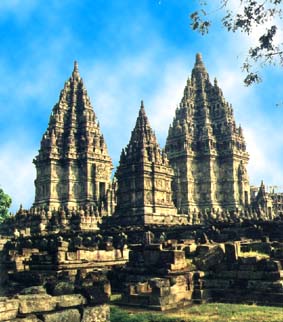 The `Beutifull` Prambanan Temple
The temples were completed about 900 AD, possibly 50 years after Borobudur, by the Hindu Javanese rulers. It was deserted within a hundred years and collapsed in about 1600 AD. The restoration was completed in 1953. This magnificent shrine is elaborately ornamented with designs of the utmost delicacy. Perhaps one of the most majestic temples in the South-East Asia, Prambanan attracts many admirers each year from abroad. I`ll hope see you there It`s almost 10 mnts from my house...If you will, I`ll take you there...Swear Situated about 15 kilometers from Klaten, the top of the main shrine is visible from a great distance and rises high above the scattered ruins of the former temples.
Prambanan
Temple
My House are nearly by Prambanan, 
named after the village, 
is the bt temple complex in Java. 
There are 224 temples in the complex; 
three of them, 
the main temples are Brahma 
Temple in the north,
Vishnu Temple in the south, 
And the biggest among the 
Three which lies between 
Brahma and Vishnu temples 
is Shiva Temple (47 meters high). 
These three ancient masterpieces 
Of Hindu architecture are 
locally referred to as 
Prambanan Temple or 
Lorojonggrang Temple.

One of its appeals is the wealth 
of sculptural detail. 
The well known one is on the inner wall 
of the balustrade, 
the wonderfully vital and utterly 
engrossing Ramayana episodes. 
Prambanan is best seen shortly
After dawn or in the late afternoon.
especially from my house,
but it is still beautiful at any time.
YUDI NOVIAN